Land Rover, Range Rover, Discovery & Freelander For Sale Adverts

Keen to sell your 4x4 ... use 4x4web adverts




Adverts in date order. P = Private, Trade = Trade. To search press Ctrl+F
Tell Nigel if you think someone is being dishonest. For assistance press HELP
Scams If you are offered over the asking price with a request to send the balance
back this is probably a scam. See Scam examples & how to get paid.
Land Rover, Range Rover, Discovery & Freelander adverts in date order
4x4web - Established 1997, one of the longest running 4x4 web sites. The whole site and domain name is now up for sale due to my retirement. Contact me, Nigel, if interested, on 07973 214323 or details at the bottom of this page.
4x4 domain names for sale from 4x4web
Due to retirement we are selling off our 4x4 related domain names, and web sites where applicable, that we have purchased over the years.
www.4x4web.co.uk
www.4x4books.co.uk
www.4x4-clubs.co.uk
www.4x4insure.co.uk
www.4x4leasing.co.uk
www.4x4-leasing.co.uk
www.4x4links.co.uk
www.4x4news.co.uk
www.4x4-repairs.co.uk
www.4x4rescue.co.uk
www.4x4-service.co.uk
www.4x4salvage.co.uk
www.4x4-salvage.co.uk
www.4x4-parts.co.uk
www.insurance-for-my-4x4.co.uk
www.off-road-training.co.uk
www.top4x4sites.co.uk
If interested please contact Nigel 07973 214323 or nigel@multiplex.co.uk
10 Nov P

Land Rover Defender Tippers. Durham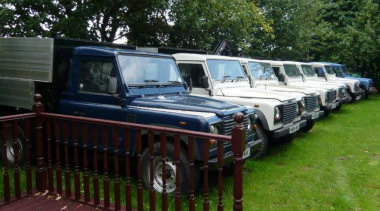 Excellent choice of newly built 110 - 130 - Tdi -TD5 tippers. All with newly built alloy dropside tipping bodies c/w inbuilt toolboxes, removeable extra high sides etc etc. All vehicles fully prepared, serviced, MOT'ed, TAXED and ready to go. Delivery available, Local - National - International.
Contact for full list and specs. O7703 349369 or 4x4play@ic24.net or see our web site www.4x4play.net
Trade



Looking for a good Trailer C M Trailers
They host their web site with 4x4web
Service manuals, handbooks, Haynes manuals... Go to www.4x4books.co.uk
Land Rover 130/150 for sale - contact 4x4 Play
4x4 Play hosts its web site with 4x4web
Also have a look at Tredown who usually have some interesting vehicles for sale.
Back to top - Go to Wanted Adverts
Ads removed after 2 months
---
Advertisments
---
To contact Nigel nigel@multiplex.co.uk
Hungerford, Berks. RG17 0DT Tel 07973 214323
Nigel D Leak t/a Multiplex. VAT No. GB 642 3964 29
18 Dec NL