Equipment tested by 4x4 web will usually be on its R reg 110 Land Rover County. This will be our own view as an end user as to what we think of it and does not imply suitability for use by others. Note we will state whether the equipment has been supplied free/on loan from the supplier, purchased outright by ourselves or done as a contra deal against web hosting. NOTE if we think something is unsafe or unsuitable, even if we were given it, then we will either not do the write up or say what we think.
Tests Reports
Puncture Safe - Puncture Prevention Treatment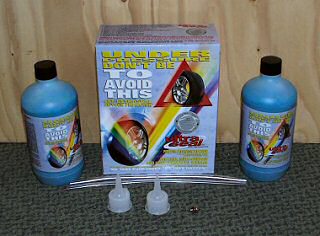 Available from: www.puncturesafe.co.uk
New Company Contact details. Now rebranded as Puncturesafe Deal: Purchased by us to test.
Tel 0870 2401280 Knowledge of supplier: None.
Original test date Feb 2006 Second test date Sep 2008

I have often considered getting something like this so was delighted to give it a try when the chance arose. Although tyres now have an excellent life the one thing that you can say is that if you do have puncture it will be either at an inconvenient time in the rain on a winding narrow road or at speed on a motorway. Whichever it can be anything from a right pain to potentially leathal. This product claims to stop all that. The supplier, was knowledgeable about his product and very confident that it would live up to its claims.

What it does. You squirt a quantity of this blue liquid into each tyre. There it stays in liquid form going round with the wheel. Not only is it waiting for any puncture to appear so it can seal it it is also reducing the porosity of the tyre so top ups for air become less frequent. The liquid further helps by dissipating the heat generated in the tyre which, it is claimed, will make the tyre last longer.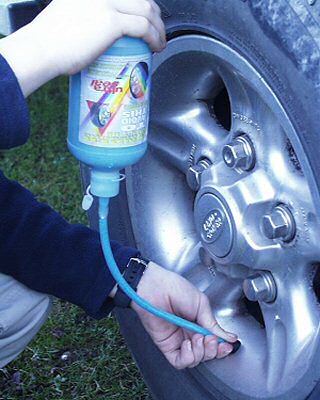 Putting it in. I think I chose one of the coldest days in February to do this. Pretty straight forward after reading the instruction. Jack the vehicle to take the weight off the wheel. Rotate the wheel to put the valve near, but not at the bottom. Remove the inner valve with the little remover supplied. Squirt the required amount into the wheel. The bottle is conveniently graduated for inverted use but it is quite difficult to see the levels as it sticks to the bottle sides. Once the right amount has been put in then a clean of the valve nozzle by pumping a bit of air through it then back in with the inner valve and pump up.
The maunufacturers warn that you might get some wheel judder when first driving off as the liquid disperses around the inside. I didn't feel anything out of the ordinary.
So far so good. This is a true fit and forget product. I have certainly noticed no difference to the handling of the vehicle at all. If it does what it says I could drive over a nail, puncture the tyre, then loose the nail and be none the wiser for it ever happening.
Peace of mind? Yes. A safer vehicle? Yes. The other very important thing is that a lot of people who drive 4x4's are not 18 stone body builders. Getting the spare off the back and even worse getting the punctured tyre back up on the door is a back breaking job. Not to mention that the alloy wheels may have near welded themselves onto the hubs!
Conclusion. Assuming that it continues to do what it says then I recommend it if you have just put new tyres on or they have a good bit of life left in them. At £60 for 3 bottles (2006 price), which is well enough for most 4x4's, it could well be worth buying.
One year on - Jan 2007 NO PUNCTURES, no problems with it. The vehicle that was treated was sold late 2007 no punctures. I have now applied it to another of our vehicles in Sep 2008. Watch this space again.



Hyperflow Filter further reduces fuel costs on 4x4web 110 Tdi
Supplied by: Hiclone Europe
Deal: Supplied for us to test and help publicise .
Knowledge of supplier: See test of Hiclone below. Contact them on 01707 870858
Test date April/May 2005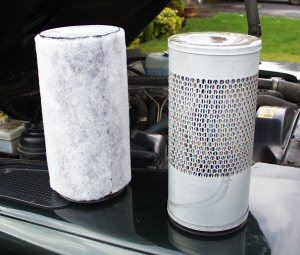 Well another product from Hiclone. You will find if you read the Hiclone article that I was very sceptical that it would work but it did. This replacement air filter also made an improvement to the 300Tdi Defender. More performance well I cannot confirm that. Better fuel economy, well yes, I tried again to prove them wrong and OK the thousand miles of driving I did were not identical to the ones below but the 110 did return over 29mpg which for a big lump like that I was pleased with. Well done Hiclone on another method of eeking a bit more out of each litre of fuel and hence helping us to reduce polution.



Hiclone reduces fuel costs on 4x4web 110 Tdi by 5½%
Supplied by: Hiclone 4WD
Deal: Supplied for us to test and help publicise .
Knowledge of supplier: None. Contact them on 01707 870858
This is the press report we published at the begining of May. To see how we got on read on.
Improve performance and reduce your fuel costs!
2 May 2003
With a proven 10 year track record, and new to Europe, Hiclone is a low cost device that improves performance and fuel economy whilst reducing emissions. It can be fitted to all vehicles, and at only £69.99 it is making real inroads into the 4x4 market - where higher mpg and improved power and torque are a must. Already, enthusiasts are seeing the benefits, and in some cases the Hiclone is paying for itself over a short period.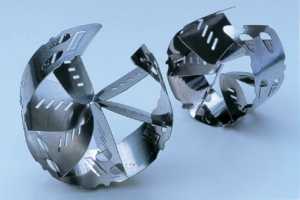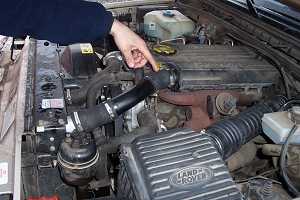 It's suitable for a wide range of 4x4s and engine types (especially V8s) and will even work where previous modifications have taken place - like vehicles with a snorkel, large intercoolers or LPG conversions. It comes with a lifetime warranty, 30 day money back guarantee, is easy to fit and requires no special tools or engine modifications.
How it works
Hiclone is a non moving ring shaped device that fits inside the air intake system of an internal combustion engine between the air filter and the engine manifold. Robustly constructed of stainless steel, it vigorously swirls the air as it is sucked into the engine, producing a better fuel/air mix which increases power, reduces emissions and improves mileage.
Save Fuel
4wd vehicles suffer from very poor fuel consumption. Hiclone's swirling air effect causes more complete combustion due to better mixing of fuel and oxygen. In petrol engines it reduces fuel particle size improving combustion. Hiclone lets you travel further with the same amount of fuel:
Carburetor: 15 -25% fuel savings
EFI: 10 - 20% fuel saving
Diesel: 5 -10% fuel saving
LPG: 5 -20% fuel saving
Increase Power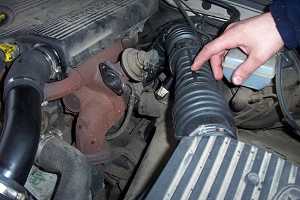 Hiclone vigorously swirls the air as it passes into the combustion chamber of an engine. This swirling air effect produces a better fuel / air mixture and a better burn. About 85% of the fuel is consumed with Hiclone fitted versus around 65% consumed without Hiclone. As more of the available fuel is burnt then more power and torque is generated by the engine. It has a positive effect on Turbo charged engines in that it facilitates the turbo to cut in up to 600 rpm earlier. We recommend a second Hiclone is fitted in front of the Turbo to enhance turbo performance, increase low down grunt and power in the lower ranges. This is particularly effective on low revving engines.
Lowers Emissions
Hiclone facilitates more complete combustion, directly reducing the amount of unburnt fuel released into the atmosphere. Tests show substantial reductions in hydrocarbon and carbon monoxide pollution levels.
User Feedback
"Hiclone definitely has made a big difference to the low down grunt of my Discovery TDI. Pulling a trailer is so much easier and off road, the vehicle has been transformed." "Economy is better too; I reckon I am saving at least 15% probably more". Rob Miller, Essex Land Rover Club
"Hiclone has increased performance, with better fuel efficiency. I fully recommend the Hiclone system."
Reece Jones, N.Z. Rally Champion
To place an order, to find out more or for an application list. Call 01707 870858 Or email
4x4web hope to be testing one of these in their 110 Tdi soon. We will tell you what we find. Note pictures are not of the 4x4web 110.
Fitting the Hiclone to the 4x4web 110
Well the instructions said it was easy, but I ended up waiting till I was visiting Harfords 4x4 in Chippenham, Wiltshire to get it fitted. Rob then fitted it for me in under 15 minutes, "Piece of cake". So that's one in the pipe to the turbo and one in the pipe to the intercooler.
Testing, first impressions
Did I mention that I am very scheptical about wonder devices that claim to save me money? However the company sounded very sincere in their belief that it will pays for itself so let's give it a fair try.
I am only really interested in the fuel saving aspect of it rather than increase in power so I carefully monitored the consumption of the 4x4web 110, 300TDi for the previous 1114 miles. This came out at 26.95 mpg. The driving consisted of local and motorway typical of living out in the sticks. The two Hiclones were fitted on the 4 June and the tank topped right up again, lets see what difference it makes. First subjective comments are that the engine appears to pull slightly better at low revs and that the turbo whistle has changed pitch slightly.
I will carefully monitor the fuel for the next thousand miles and report back. The MOT is also due next week so it will be interesting to see how the exhaust scores.
Update 27 June
First tank of fuel finished with 407 miles on the clock since last full. This works out at 28.08 mpg. MOT emmission test passed with no problems.
Update 3 July
Second tank of fuel finished with 414 miles on the clock since last full. This works out at 28.21 mpg for this tank full. However until I have done 1000 miles I do not want to jump to a conclusion.
Update 14 July
At the end of the test I had done 1176 miles of varied driving.Final result 28.44mpg this represents an improvement of 5½%
So it would appear that it does save fuel although the control of my experimental conditions were not as rigoro us as they could be but I think that the saving is real. Payback with the TDi which requirs 2 of these will be just over the year. On non turbo installations requiring one Hiclone then the payback should be faster As most of us keep our 4x4's quite a long time then this is a sensible item with the added benefits of a small increase in power and a hopefully cleaner exhaust with a easier pass at MOT time.
Nigel Leak B.Sc A.M.R.Ae.S A.C.G.I.
Seat Covers by Coverking
Supplied by: Coverking
Deal: Purchased by us, but partly in exchange for web hosting.
Reason for buying: With two ten year old boys and lots of climbing in and out on 4x4 trips plus the need to use the vehicle as my only method of transport, seat covers seamed like a good idea.
Knowledge of supplier: Good. They knew what we wanted, checked on the colours. Contact them on 0800 083 0251
Delivery: Arrived on the day specified, well packed.
Fitting: My lads ran off with the package and before I had a chance to look they were fitted, so I assume it was easy.
In use: Much more comfortable than expected, no complaints about them, the lads fell asleep sitting on them and I have not bothered to remove them now I am back to normal business use.

Wheels and BFG Mud Terrain Tyres by Southam Tyres
Supplied by: Southam Tyres
Deal: Purchased by us.
Reason for buying: Wanted a better offroad tyre than the BFG All Terrains on the vehicle.
Knowledge of supplier: Very Good. Dave talked me through the options, pros and cons and appeared to know what he was talking about. Contact them on 0870 9009 444
Delivery: Arrived on the day specified but wheels were not on tyres. Rang Southam who told me to send them straight back and correct delivery arrived following morning.
Fitting: Glad I had a hi-lift.
In use: Much quieter than expected. In fact only with the radio off and the window open can I hear a slightly different noise to the All Terrains. So much for all those people forecasting need for ear defenders. Handling on road, I have not yet detected any difference, this could be a false sense of security, but I am hoping that by buying supposedly the "best" off road tyre that I get a "good" on road tyre. The steel wheels are great and in my opinion better looking than the Land Rover alloys. Having said that the original fit Land Rover alloys and BFG All Terrains covered 75,000 miles with tread still to go when I replaced them with another set of the same, also from Southam Tyres. I keep the Mud Terrains for the real rough stuff.

---
Advertisments
---
To contact Nigel nigel@multiplex.co.uk
Hungerford, Berks. RG17 0DT Tel 07973 214323
Nigel D Leak t/a Multiplex. VAT No. GB 642 3964 29
27 Aug NL